Brian Swager

Organist, Harpist & Carillonneur

Private Music Teacher

San Francisco, California
---
Music as a Spiritual Practice
"Music is a spiritual practice for me, and much personal growth and healing happens for me long before there is an audience. So I believe that, when I do share my musical gifts with others, I am offering something beyond and far deeper than the music itself. My intention, when I give my gifts, is to create a space where hearts open and soul meets soul. My work in this world is to invite people into this spiritual realm of sacred lovespace, guiding ever deeper. There is joy in the giving, in the receiving, in the connection. I invite you to close your eyes, breath deeply, open your heart, listen, feel the love, and take the love into the world and share it generously."
---
"Music will calm thee"
In the absence of services—due to COVID-19 sheltering-in-place—at Immanuel Lutheran Church in San Jose, California, where I was the Director of Music, I have posted service music online. I invite you to listen to organ and harp music and to sing along with some hymns.

Click the INDEX link for a page with all of the organ, harp, and piano pieces from the "Music will calm thee" series, pictures of the instruments, and a stoplist for the Casavant pipe organ.
---
---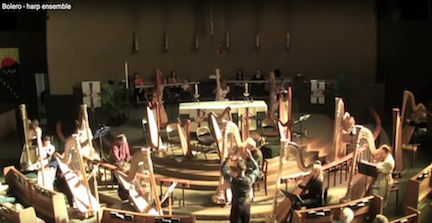 Selected Music Collaborations
RAVEL: Bolero Conducting the Harp Ensemble of the Silicon Valley Chapter, American Harp Society
---
---
---
---
---